Bromo-Seltzer Tower

312-318 West Lombard St. and South Paca St.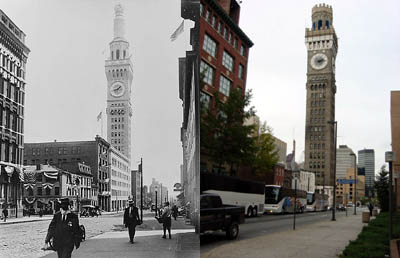 Bromo-Seltzer Tower - 1912 and Now
---
You're the inventor of a popular headache remedy living in the city of Baltimore around 1910. You have a factory on Lombard Street, a few blocks from the harbor. You want to create something memorable for the city. Of course, you also want to promote that headache remedy…
What do you do?
If you are Captain Isaac Emerson, inventor of Bromo-Seltzer, you hire a well-known architect and build a massive clock tower next to your factory.
At the time it was built, the Bromo-Seltzer tower was the tallest building in the city, standing over 289 feet tall. Ever the businessman, Captain Emerson added a few touches so that citizens and visitors wouldn't be confused about who built the tower. Instead of numbers on the clock face, the letters of Emerson's headache cure B-R-O-M-O-S-E-L-T-Z-E-R mark the hours. And from its completion in 1911 until 1936, a 51-foot replica of a blue Bromo-Seltzer bottle revolved on top of the tower. The revolving bottle was lit by 596 lights that let people see it from 20 miles away on a clear night! The bottle had to be taken down for fear it would fall. However, the Bromo-Seltzer Tower remains one of Baltimore's most distinctive landmarks.