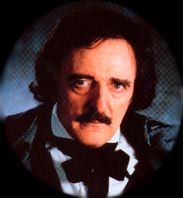 Baltimore's own, the Academy-Award nominated actor John Astin is our site's "Edgar Allan Poe." Mr. Astin is, of course, best known as Gomez Addams, the patriarch of the original Addams Family television series. Gomez remains one of his favorite TV characterizations, along with Buddy Ryan in Night Court and the title role in Evil Roy Slade.
Recently, Mr. Astin has been performing Edgar Allan Poe — Once Upon Midnight to critical acclaim and enthusiastic audiences throughout the U.S. He hopes the play will enhance and deepen interest in and respect for Poe's brilliance and versatility. Astin said recently, "I feel that Poe, through his own tortured existence, gained deep insight into the nature of the universe, along with an intense love and appreciation for life itself. Through this play I want to share that impression with others."
Mr. Astin's early training was in Shakespeare and other classical dramatists. He appeared in the original New York companies of The Threepenny Opera, James Joyce's Ulysses in Nighttown, and Charles Laughton's memorable production of Shaw's Major Barbara.
Among Mr. Astin's films are West Side Story, That Touch of Mink, The Wheeler Dealers, Move Over Darling, Candy, Viva Max, Freaky Friday, European Vacation, Gremlins II, Peter Jackson's The Frighteners, and Betaville, an adventure in the 21st century in which he portrays the President of the United States.
Mr. Astin received an Academy Award nomination for Prelude, a short film that he wrote, produced and directed. He was nominated for an Ace Award for his work on Tales From the Crypt, and received an Emmy nomination for the cartoon voice of Gomez on ABC-TV's The Addams Family. Mr. Astin served for four years on the Board of Directors of the Writers Guild of America West, and is active in community affairs in Los Angeles and Santa Monica.
Mr. Astin was born in Baltimore and grew up in Washington, D.C. He received a degree in Drama from John Hopkins University and did his graduate work in English literature at the University of Minnesota. He resides in Los Angeles with his wife Valerie and is the father of five sons and one granddaughter, of whom he is intensely proud.