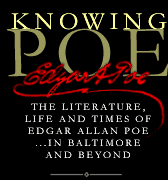 Audio Recordings

Poe's Greatest Hits 2 CD Set

Noted Poe actor, Norman George, performs nine well-known Poe works including "To Helen," "The Tell-Tale Heart," The Pit and the Pendulum," "The Raven," "The Bells," "The Cask of the Amontillado," "The Black Cat, " The Masque of the Red Death" and "Annabel Lee." 146 minutes.
Recommended by the Poe Museum in Richmond, VA and available through their online store


Edgar Allan Poe's: Stories and Tales I (Abridged). Edgar Allan Poe, Michael Sollazzo. Monterey Soundworks. ISBN: 1569945004.

Dramatic readings by the actors of the St. Charles Players include "The Tell-Tale Heart," "The Cask of Amontillado," "Gold Bug," and "The Fall of the House of Usher." The stories are edited for young audiences, making vocabulary and narration more accessible for younger kids.


Basil Rathbone reads "The Raven"
http://archive.salon.com/audio/poetry/2000/10/31/poe/index

An online audio file, not to be missed, of the great actor interpreting this popular poem.