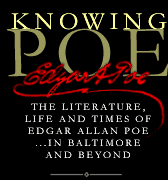 THE authoritative site for Edgar Allan Poe research
http://www.eapoe.org/

This site has one of the best collections of electronic texts of Poe's works, plus a wealth of information related to Poe the writer and Poe the person. This comprehensive site is sponsored by the Edgar Allan Poe Society of Baltimore of Baltimore. The society is a non-profit organization dedicated to providing historically accurate information about Poe and his works.


Other well-respected sites (courtesy of the Edgar Allan Poe Society of Baltimore)

Poe Studies Association (PSA)
http://www.lv.psu.edu/PSA/
The PSA is an academic association of individuals interested in current scholarly studies on Poe. It sponsors Poe-related sessions at the annual conferences of the Modern Language Association (MLA) and the American Literature Association (AMLA). It also publishes The Edgar Allan Poe Review, with Spring and Fall issues. It formerly published a newsletter twice a year.

Poe Foundation (Richmond)
http://www.poemuseum.org/
This organization maintains a museum dedicated to Poe, with many interesting artifacts.

Poe National Historic Site (Philadelphia)
http://www.nps.gov/edal
This is the house Poe lived in from fall of 1842 (or June of 1843) to April of 1844.

Poe Cottage in New York (Fordham/Bronx)
http://www.bronxhistoricalsociety.org/poe-cottage
Poe lived in this house during the last years of his life. His beloved wife, Virginia, died here in 1847. The Poe cottage is in Poe Park; Grand Concourse and East Kingbridge Road; Bronx, New York.

The Raven Society of the University of Virginia
http://scs.student.virginia.edu/~ravens/
As a student honor society, the Raven Society does not accept members from outside the University community. They do, however, sponsor a number of public events in the Charlottesville, Virginia area and help to maintain the room in which Poe stayed while he was the University of Virginia.


Other Poe-related Links

Letters of Edgar Allan Poe: A Digital Archive at the University of Virginia
http://etext.lib.virginia.edu/poe/PoeLetters.html
A digital collection of letters focused on Poe as a writer and critic.

The Edgar Allan Poe Collection
Enoch Pratt Free Library
State Library Resource Center
http://www.epfl.net/exhibits/poe/
Samples of letters and memorabilia from Poe's life.

A Poe Webliography: Edgar Allan Poe on the Internet
http://andromeda.rutgers.edu/~ehrlich/poesites.html
A complete listing of all sites related to Poe on the Internet, grouped according to their format and use.